Library, Archives, Museum, and more: connecting for improved heritage services in the City of Burnaby
Speakers:
Kathy Bryce, Director, Andornot Consulting Inc.
Arilea Sill, IAP Administrator, Government of Nova Scotia (former City Archivist, City of Burnaby)
Date and Time:
Saturday, September 26, 2015 -

1:30pm

to

2:19pm
Description:
The Heritage Burnaby program is an initiative of the City of Burnaby's Community Heritage Commission and represents a civic partnership between the Heritage Program of the Planning and Building Department; the City Archives of the Clerk's Department; Burnaby Village Museum operated by the Parks, Recreation and Cultural Services Department; and the Burnaby Public Library. The impetus for the development of the program was a strong desire to see access to the disparate heritage assets of the City united in a user-friendly, collaborative, online environment. The goal is to provide the public with a single point-of-entry into the collections of the multiple heritage service providers in the City.
Burnaby was incorporated in 1892 and is today the third largest city in B.C. and a dynamic and diverse urban centre within Metro Vancouver. Our shared program provides a comprehensive and interactive community heritage and history website where researchers and citizens can easily discover a wide array of resources to create a broader understanding and appreciation of our city's 'collective memory'. The Heritage Burnaby website includes access to archival records, special collections library material, museum artifacts as well as heritage landmarks and buildings. The collections range from oral history recordings, moving images, photographs, textual records, and physical artifacts to information on neighbourhood histories and an interactive map of the city charting the location of each landmark and designated heritage site in the city.
At the time the Heritage Burnaby website was originally developed, in 2008, it met then-current standards for website design, usability, accessibility for users with different abilities, and for mobile access. A major upgrade to the site was completed in 2015 to provide users with a single search across all data and resources. Results from disparate collections are interfiled and include library, archival and museum metadata, digitized books, streaming audio oral history recordings, videos as well council minutes, reports and bylaws.
This session will demonstrate how libraries, archives, museums and other civic departments can partner successfully to present a unified heritage portal for citizens. We'll demonstrate the features of the site, and discuss some of the technical, descriptive, and administrative challenges we faced.
---
 Presenter Bios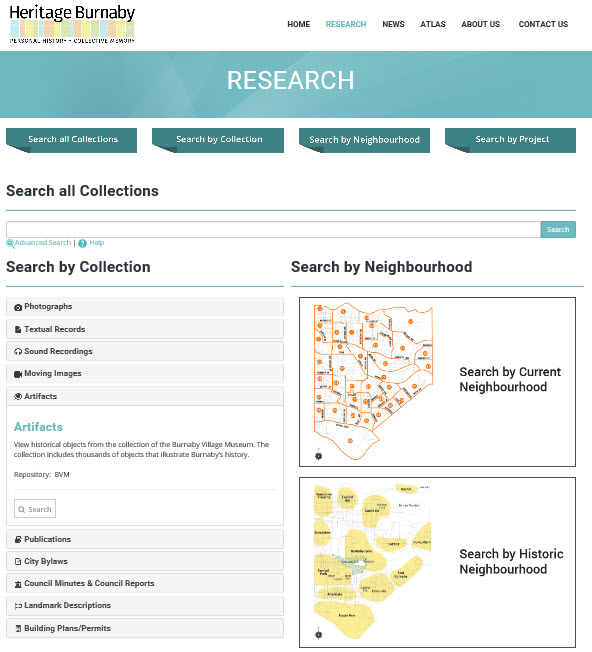 Kathy Bryce:
Andornot Consulting Inc.
Twitter: https://twitter.com/andornot
Kathy Bryce is a founding partner in Andornot Consulting which has been helping libraries and archives with software and customized desktop and web applications for the last 20 years. Kathy is passionate about creating search interfaces that both showcase the collections and are designed appropriately for their user's needs.  Although based in BC, Andornot has clients across Canada and has recently worked with the Nova Scotia Barristers' Society to develop a new library catalog website, and is currently developing a new catalog interface for the Nova Scotia Health Authority libraries.
Arilea Sill:
Government of Nova Scotia
Facebook: https://www.facebook.com/nsgov
Twitter: https://twitter.com/nsgov
Arilea Sill served as the City of Burnaby's first City Archivist from 2006-2013.  During that time, Arilea helped champion the development of Burnaby's archival records program; including the creation of the award-winning Heritage Burnaby program of services. After more than a decade spent as the City Archivist she decided to return to her home province of Nova Scotia working first as a records management professional for the Department of Education and Early Childhood Development and currently as an Information Access and Privacy Administrator with the Department of Internal Services.